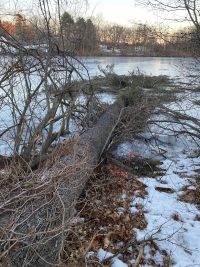 Most of you must have heard the high winds gusting outside your windows Monday night. Yesterday, local media covered the impact to the area. It sounds like Southborough was relatively unscathed compared to some of our neighbors.
Milford Daily News wrote:
Southborough had a few trees down overnight but they were quickly removed by the Department of Public Works, Police Chief Kenneth Paulhus said. There were no power outages in Southborough.
Reader Chris Robbins contributed a photo of one example (right). He described it as a tree that fell onto the frozen reservoir on Parkerville Road.
Neighboring communities reported damage to homes and/or power outages:
A tree broke through the roof of a house at 2 Birch Road in Westborough following high winds, March 2, 2021.

Calls related to wind-related problems started late Monday afternoon in Natick and continued through the night as wind gusts approached 50 mph.

Natick wasn't alone. Several MetroWest communities dealt with power outages, and fallen trees and wires, as the wind roared constantly through Tuesday afternoon. . .

Eversource spokesman Reid Lamberty said there were 5,000 customers without power at one point. In eastern Massachusetts, there were still 2,500 customers without power as of 9 a.m. Tuesday, including 500 in Framingham. By 1 p.m., that number was down to about 150 locally.
You can read the full story here.