In a hearing on the proposed zoning changes for the Downtown District, the public learned that one controversial detail wasn't "real" – just a placeholder. They also learned steps the Board of Selectmen are taking on another controversial issue. And selectmen learned that some district residents are up in arms over a third issue.
Here are my highlights.
Diverse (affordable) housing component
It appears that some details triggering concerns relate to a secondary goal of the zoning changes that hasn't gotten much attention. Selectmen and other Town officials aren't just tyring to attract businesses downtown. They are also looking to "increase housing diversity".
That basically means that they want to add options for housing that are more affordable than single family homes. (Not all of those choices officially count as "Affordable Housing".)*
Selectman Lisa Braccio's introduction of the zoning bylaw highlighted that the Town is seeking to make good on the promise it has been making for years. In the Master Plan and other documents and forums officials have stressed the need for diversifying housing stock. Reasons include ensuring that senior residents can afford to downsize in town, and younger residents can afford to live in the town where they grew up.
In addition, the Town's zoning consultant has pushed multi-family housing as an important part of economic development for any downtown. It drives foot traffic that downtown businesses need. It also allows diversity for the workforce, since not all workers can afford single family homes in town.
The desire to encourage downtown housing has influenced zoning details including allowed building heights. (Scroll down for more on that.)
Zoning already allows multi-family housing downtown. The proposed bylaw would allow multi-family housing that is less restricted in some aspects, but capped at 12 units. That would still require a special permit. (You can compare the uses under current and proposed zoning on page 2 of my chart.)
"80% lot coverage" wasn't a real/discussed figure
As I previously covered, a revised draft for the Downtown District zoning replaced a building size ratio with "80% lot coverage". It was a detail highly criticized by Planning Board member Meme Luttrell at Monday night's Planning Board meeting. On Tuesday night, at the Board of Selectmen's hearing, Selectman Lisa Braccio stated that it wasn't a "real" number.
Braccio is the BOS point person for the initiative. She explained that the Town's zoning/planning consultant had plugged in a figure for the lot coverage, but that number hadn't been discussed by the Working Group that has been hammering out revisions.
The consultant, Judy Barrett, wound up being unavailable to participated in the hearing on Tuesday. (Originally, Braccio had indicated she hoped Barrett would be able to join a portion of the hearing to speak about the removed Floor Area Ratios.) Braccio said that they would be addressing the figure with her (as well as questions about whether lot coverage is the right metric to define density).
Concerns about allowing taller 3 story and 4 story buildings
Main Street residents Ray Hokinson and David Parry both called in their concerns about changes that would invite taller buildings downtown. The proposed bylaw would increase the allowed by right height for Main Street from 35 feet to 40 feet. In addition, it would allow four story buildings by special permit.
Currently, there are no three story buildings downtown. Hokinson said adding 3 story buildings that are 40 feet high would really alter the character of Southborough. He noted that even on Route 9, you rarely get 3 story buildings.
Parry pointed out that residents had objected to a 2½ story building that had been proposed on the corner of Newton Street as too tall for the area. (The objections contributed to the rejection of a special permit for the project.) Parry said that the developer would have been "laughed out of town" if he proposed a 4 story building. As a former city planner, Parry opined that changing allowed building heights would change the area's character even more than increased density people worried about.
Concerned residents were told that the height had been agreed upon by collaborating Town officials in a November 24th meeting between BOS, Planning Board, the Economic Development Committee, the Southborough Housing Opportunity Partnership, and other stakeholders.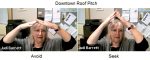 Looking back at that discussion, Barrett told officials that increased heights and stories were to avoid roof forms and structures that wouldn't respect what's already downtown. She explained that keeping the 3 story and 35 foot restriction would result in undesirable roof pitches. (Click image right for her illustration of pitch to be avoided vs encouraged.)
However, that discussion presumed that 3-4 story buildings were desirable. The need was reinforced by Barrett as required for the kind of mixed-use officials were hoping for to attract with residential units.
Of the 11 Town officials participating in the discussion, only one objected to the heights. Planning's Meme Luttrell argued that anything over 35 feet should be by special permit. (She didn't object to allowing 4 stories by special permit.) The other two Planning members were in consensus with the group.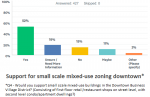 In materials and presentations, EDC and selectmen have pointed to 2017 survey that indicated interest or support for mixed-use buildings downtown. It's worth noting that the survey described 2 story buildings. 52% approved of the mixed-use idea, while 30% said maybe or that they needed more information. (Click image right.)
Hokinson was upset about the potential for tall buildings downtown. He referred to the potential of the plaza at 11 Main Street becoming a 4 story building. Referencing an earlier statement about developers need for a degree of certainty, Hokinson said as a resident living in the village he also would like to feel a degree of certainty.
Although Braccio defended the origins of the height change in Tuesday's hearing, she assured that concerns were being heard and would be discussed.
Zoning Map will be revisited with split lot owners
As expected, the issue of the zoning map was raised again on Tuesday. The Town's zoning attorney, Adam Costa, couldn't assure that residents concerns were unfounded.
Costa disagreed that the zoning map was a clear invitation for a "land grab" as characterized by abutter Kevin Miller. He opined that a developer would face hurdles in negotiating split parcel purchases and cobbling parcels together for a large project. But he acknowledged it was possible. Following Miller's explanation of concerns, Costa even indicated that Miller seemed to understand the opportunities for development in the area more than he did. (The attorney had only examined the three lots that he had been pointed to prior to the meeting.)
Costa also indirectly reinforced Miller's concerns about the types of projects that could be allowed within the zoning borders. He explained that the by right uses were important to attract developers who could revitalize downtown. Developers look for a degree of certainty about projects that will be allowed without discretionary oversight.**
Addressing the difficulty of reshaping the zoning map, Costa said that it wouldn't be a "heavy lift". He confirmed that the map will have to be redone regardless as part of the rezoning. The Town could change the lines to put split lots fully in residential zones. He wasn't able to answer if there may be benefits to current landowners in keeping their lots split.
Braccio announced that selectmen would be reaching out to the owners of the 6-7 split lots. They hope to bring them in to discuss what their opinions are on the issue. They hope to be able to resolve the map issue to everyone's satisfaction.
Next Steps
Braccio thanked the public for participating in the hearing. Officials will continue to look at issues raised.
To pass at Annual Town Meeting, I believe the zoning changes require 2/3 approval.*** That has proven to be a real hurdle for Town officials who have long sought to overhaul problems in zoning bylaws. And it means the Article proponents have real incentive to address publicly raised concerns.
I didn't get the impression that the Braccio's invitation to parcel owners would be for a public meeting. Working Group meetings will likely also continue behind the scenes with occasional updates to the public through Planning and/or BOS meetings.
Planning Board hearings will continue up to Annual Town Meeting. Since selectmen have had more public participation in their own forums/hearings than at Planning Board, I'd also expect to see at least one more BOS forum prior to Town Meeting.
*Part of the Town's overall efforts on housing, is to keep up the level of affordable housing that qualifies as housing inventory stock. (That is needed to ward off unwanted 40B projects and only allow affordable/40B projects the Town wants.) But not all of the Town's diverse housing needs are ones that qualify as affordable inventory. In looking at the Nov 24th BOS meeting, it doesn't sound like officials perceive that the Downtown District would attract anything significant for that inventory. Still, there are requirements in the proposed zoning for some affordable housing in any project with 4 or more residential units.
**Costa was referring to the difference between a discretionary special permit and a non-discretionary Site Plan Approval. I explained that in a prior post here.
***Updated (4/2/21 8:08 am): A reader questioned if I was right about the supermajority required.
In February, the state approved allowing zoning that increases housing diversity to pass by simple majority. That does include adding mixed-use and mult-family by right. However, the state also issued the following guidance to municipalities:
Section 5 as amended provides that "any amendment that requires a simple majority vote shall not be combined with amendments that require a two-thirds majority vote." A proposed zoning amendment cannot be adopted by a simple majority vote if it is combined into a single proposal with changes that require a ⅔ supermajority. Drafters of new zoning proposals should take care not to combine provisions that require different voting thresholds, so that proposals that will encourage new housing production will get the benefit of the simple majority threshold. If a municipality desires to combine proposals with different voting thresholds, the municipality should first confer with the municipal law unit of the Attorney General's Office.
The proposed zoning would also change details related to by-right use for commercial/retail only projects. My assumption has been that means it will requires 2/3 to pass. But, I haven't seen/heard any legal opinion the Town has received on the draft bylaw.