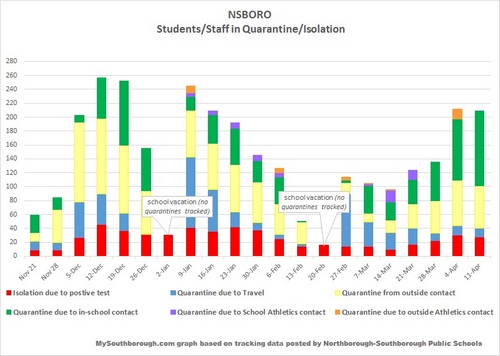 The Northborough-Southborough schools' weekly Dashboard for April 5 -11 shows 9 new cases were confirmed across the districts. (That's 287 over the course of the pandemic.) 209 students/staff were isolated or quarantined.
Student participation increased in the Covid-19 screening program, but remains well below the 80% goals.
Below are charts and info from the latest Dashboard and my tracking of their data since the start of the school year.
The Town updated its Covid-19 figures "as of" 8:10 am this morning. 26 cases have been confirmed reported in the past 15 days, 5 since Friday.
The Town's cumulative total over the course of the pandemic was increased to 471 cases with 41 cases labeled active. (For details, click on graphs below.)
For the most recent data from the state on positivity rates and vaccinations, click here to read Friday's post.