It's the time of year when families look to start nailing down camp plans for the summer. So, before the program fills up, I'm reminder readers about Southborough Recreation's summer camp.
As I posted previously, this will be the first summer that Rec is holding a full day summer camp. They are also still offering a half day option for 3-6 year olds and CITs.
Camp and CIT options cover ages 3-15, though they will be split by age groups. (Note about the younger ones: Campers must be potty trained.)
It's also the first time in my memory that all ages will be gathered on one campus. Rec's flyer describes:
Located at the Woodward School, our program provides unique access to quality indoor and outdoor facilities to fit the needs of all children. . .

Each day will boast a variety of traditional camp activities for your child that include but are not limited to sports, arts & crafts, special events, on-site entertainers, and more!
Registration will be more limited than usual due to Covid restrictions. That means it could fill up soon. (For the youngest campers, two weeks of the 1/2 day option have already sold out. For 7-11 year olds, one week has sold out.)
At this point, restrictions also mean there won't be any field trips planned (that includes the weekly jaunts older campers are used to taking to St. Mark's pool.)
Rec does still plan to bring in special visitors to help with the fun. As usual, they'll be organizing the camps around weekly themes. This summer, those are: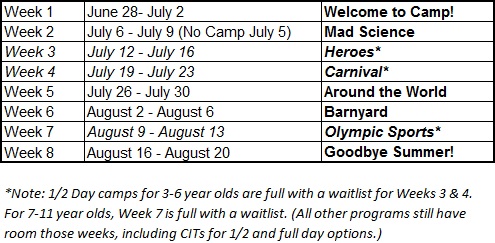 For more details on the summer camps and CIT program, check out my post from February. (For other camps and activities for kids this summer, click here.)
Updated (4/13/21 8:23 am): The draft was accidentally posted before I could verify status of camps this morning. As I inserted above, for campers ages 7-11 Week 7 is full. Click here for summer camp registration.