On Tuesday, I shared that the Southborough Food Pantry needs donations. While their priority list of immediate needs was mostly food, the pantry is also in need of other items to support its clients.
A Southborough scout is holding a special collection to expand the Food Pantry, she is looking to collect a large variety of First-Aid and Hygiene items "to help all Southborough residents that aren't able to afford these vital items to stay healthy".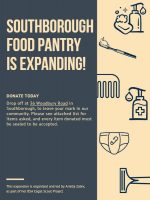 The community is asked not to drop off the items for this focused drive at the Food Pantry's usual collection site.
Instead, items from this list should be dropped off at 36 Woodbury Road (or a future collection bin at one of the soon-to-be launched drives in Southborough schools.)
The organizer of the drive, BSA Scout Ariella Zalev, explains she doesn't want to overwhelm the Food Pantry volunteers.
Throughout the pandemic, the Southborough Food Pantry has stressed that they have a capacity issue for collecting items due to safety protocols. It has required them to ask only for their top need items at any given time.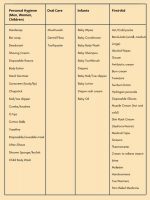 Creating a special expansion to the Pantry is part of Zalev's Eagle Scout project. The 9th grader is a member of Troop 823, a BSA girls troop covering the boroughs.
Click on the image left for the special collection needs list. Note that only sealed items can be accepted: