The Southborough Library has traditionally held a "Candidates Night" for residents running for Town offices. In addition to a Meet & Greet, Library Trustees organized moderated panels with Q&A from the public. Last year, that plan was scrapped due to the pandemic.
This spring, the Trustees came up with an alternative, Covid-safe format. They are branding it "Meet the Candidates".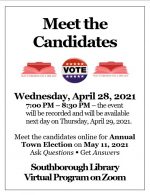 Candidates have been invited to take part in remote sessions that will be recorded and edited into one video to share with the public. As part of the revamped format, the public is invited to submit questions.
Andrew Dennington and Michael Weishan, candidates competing for Board of Selectmen, have confirmed their participation. In addition, the three candidates running for the Northborough seat on the Regional School Committee have been invited, along with those running unopposed for other seats on the ballot. (Note: It is possible that some will choose not to participate.)
Click here for a reminder of details on everyone running for office.
The form for residents to ask questions to the candidates is now live at bit.ly/sblibCandidates2021. Questions may be directed to specific candidates. (Those submitting questions are asked to identify themselves and questions will be reviewed in advance by the organizers.)
Start submitting your questions now, since the Library plans to record the session the evening of Wednesday, April 28th. Library staff hope to make the video sometime the following day.
Voting details
Tonight (at 8:00 pm) Wednesday, April 21st is the deadline for registering to vote in this election.
Election Day is Tuesday, May 11th. Residents can apply for mail-in ballots through Tuesday, April 27th. (Only ballots received by the Town Clerk by 8:00pm on May 11, 2021 will be counted.)
Updated (4/22/21 8:01 am): I had initially noted that I wasn't sure if the Northborough candidates would be invited to participate. The Library extended an invitation to each of them yesterday. (It is too soon to know if they will participate.)