Previously, I shared that two of the Town's big non-profits were working on a merger. This week, the Southborough Community Fund announced that the merger is complete. It has absorbed the Southborough Education Foundation.
SEF's commitment to supporting innovative education initiatives will continue, just under the umbrella of SCF. That includes the continuation of the "Red Apple" program to recognize teachers.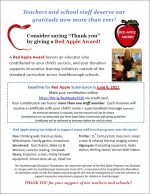 Speaking of the Red Apple, the organization asked me to remind parents that they make great thank you gifts for teachers. Rather than waiting until the end of the year, SCF is already plugging them as the first initiative of the merged organization.
A release quotes SCF Board member Erin Cox:
Throughout this unique and challenging year, our educators and administrators have worked tirelessly to ensure high quality learning experiences for our children, whether in the classroom or on Zoom. By participating in the Red Apples program, families can honor our amazing educators and strengthen SCF's future educational grant-making efforts. It's a win/win.
Red Apple donations are due by June 8th for this school year. You can make one tax deductible donation to SCF and dedicate it to multiple teachers and school staff members.
Each recipient of a Red Apple Award receives a certificate that includes your child's name (but will not include the dollar amount of the gift). To make a gift, or learn more, click here.
You can read more background on the merger and how the combined board will work here. For the announcement of the completed merger, click here.