Annual Town Meeting opens in ten days. So, it's time to start digging into more of the Articles voters will be asked to decide on.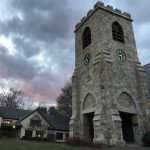 As I've previously noted, there are five Community Preservation Act Articles this year. Yesterday, the Community Advocate covered one of them — Article 19: St. Mark's Church Bell Tower Renovation.
The stone clock tower, built in 1891 as a donation from Old Colony Railroad Corporation President Charles Choate, requires repairs because of a number of problems. These include cracking mortar joints, fracturing stones and cracking on stones both inside and outside the tower, according to a 2017 evaluation by Spencer, Sullivan, & Vogt, Preservation Architects.
The Article asks Southborough to commit $300K from CPA funds* to support the project.
At Town Meeting, voters will hear that the Advisory Committee voted against supporting the Article. Prior to the official vote, Chair Kathy Cook told selectmen that members voiced opposition to the Article based on the possibility of litigation over the separation of church and state.
The Community Advocate's article explains that proponents and Town Counsel argue the church vs state issue is irrelevant since the focus is on preservation of an historic landmark that doesn't include religious symbolism. You can read more about that here.
Advisory member Jason Malinowski clarified for Cook and selectmen that he had a different reason for opposing the project. He opined that it benefits too small a population. He argued that CPA funds should be used for projects that are for broader good.
The Board of Selectmen put off providing a formal opinion until Town Meeting. At an April Meeting, then-Selectman Brian Shea** raised a general concern over the five CPA projects.
Shea said the unintended consequence of delaying Articles last year is that new projects popped up. He pointed out that the matching funds from the state for CPA projects has gone down over the years. With more of the share coming from Southborough funds, he opined that projects should be prioritized. He cautioned that they may come under heavier scrutiny this year.
Community Preservation Committee Vice Chair Andrew Mills responded that the lower match is due to the higher number of communities participating in the CPA. As for worrying about the pipeline, he assured they had been reaching out to other departments and boards about future needs. He said they hadn't heard anything that would suggest they need to hold back some funds for other projects.
In terms of funding this particular project, the CA writes:
The total cost of the renovation is estimated at $750,000, of which the church's parishioners have pledged more than $350,000.
For more history on the tower project, click here. For St. Mark's website dedicated to answering the public's questions about the project, click here.
Last week, the Southborough Trails Committee held an info session on its CPA project. You can check that out here. For all of my posts related to Annual Town Meeting, click here.
*Through the Community Preservation Act, the Town collects surcharges, partially matched by the state for the fund. It's a set amount that doesn't vary depending on the projects funded.
That means, while it's not free money, approving a project doesn't increase your taxes. At least not directly.
Opponents of specific past projects in the past have argued they would reduce the coffers for other projects. That can mean that a project down the road that could have been funded by the CPA would instead require funding through the Town's operating/capital budgets.
So, a vote on spending CPA funds is about deciding how much to dedicate to a specific project vs leave available in accounts for future projects.
**Shea chose not to run for re-election to his seat. His seat will be filled by Andrew Dennington based on the results of yesterday's Town election. Dennington was on the Advisory Committee when it voted not to support the Article.
Updated (5/13/21 8:38 am): St. Mark's parish shared this link to the website they dedicated to answering questions about the project.