On Friday afternoon, the "official" results for the Town election were posted. They came with a clarification about an issue that some blog commenters voiced concern over. In the original count, the tallies for two precincts were accidentally flipped.
Town Clerk Jim Hegarty posted:
On election night, the posted unofficial results included a typo where Town Clerk Jim Hegarty listed the results for Precinct 2 as Precinct 3, and Precinct 3 as Precinct 2. Both candidates in the Selectmen's race were notified of this error on the morning after the election.
In a message to me, Hegarty further explained:
At the end of an 18-hour election workday, I made a typo when I typed the unofficial election results into an Excel spreadsheet and labelled the results for Precinct 2 as Precinct 3 and Precinct 3 as Precinct 2. I spoke with both candidates the next morning and explained my mistake. It had zero impact on the election results – just an embarrassing gaffe on my part.

Neither candidate for Selectman wants a recount.
What made the flip notable is that this year's election had a big variation in results per precinct.
Precinct 2 cast double the number of votes for Michael Weishan than they did for Andrew Dennington. It's also the precinct that had the highest voter turnout.
However, in the other two areas of town, Dennington outperformed Weishan enough to win the full election by 23 votes.
Precinct 2 contains neighborhoods that have been actively opposed to the proposed Park Central development. Many outspoken opponents were angered by some actions of the Zoning Board of Appeals while Dennington served as a member, then Chair. So, for Dennington to initially be shown as performing so much better in that precinct than Precinct 3 jumped out.
Below are the final results:


I'm also sharing the final results for the Regional School Committee's Northborough representative. While I got the results of who won correct, I made a big error myself in sharing the unofficial results last week.
I had combined both Southborough and Northborough results to calculate the totals. I neglected to realize that Northborough's figures already incorporated Southborough's reported votes.
In the end, the margin between candidates was smaller than I thought.
I was correct in asserting that Kathleen Howland had the definitive lead in securing a seat. But instead of losing by 3 votes, Miriam Ibrahami lost to Karen Ares by 13 votes. Those details are below: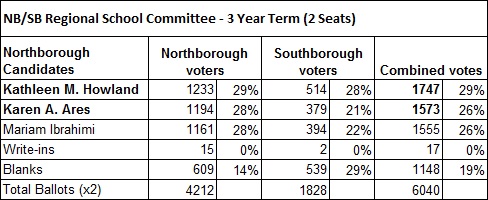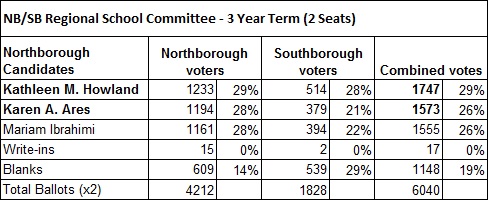 Click here for the full Southborough official election results.
Updated (5/18/21 8:15 am): A commenter pointed out that I had inaccurately described the difference between Dennington and Weishan's total votes as 27 instead of 23.