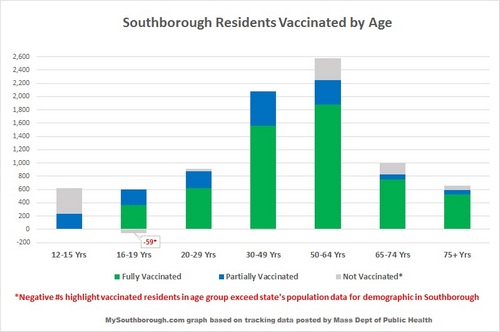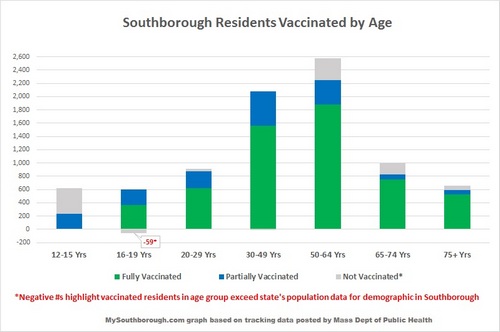 It's time for an update on Covid infection and vaccination figures.
Vaccinations
Last week, I didn't have time to share the latest report from the state on Covid Vaccination progress for residents. The state has now broken down the demographics for residents under the age of 20 into more detail. The reported success at vaccinating older teens by last Tuesday is literally too good to be true.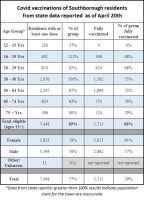 111% of Southborough 16-19 year olds reportedly received at least one dose. (Results under race/ethnicity are even more egregious.) It demonstrates clearly that the state's doesn't have current, accurate population/demographic data for our town.
Obviously this shows that the progress reports are just an estimate. But, while we can can't be sure what to make of their figures for unvaccinated residents, we can see clear progress over time. The report also shared that within their first week of eligibility for the vaccine, 230 Southborough 12-15 year olds already got their first dose.
Below are graphs based on past reports of residents with at least one dose and fully vaccinated residents:
For those who are looking to sign themselves (or their kids) up for a shot, you can check out the registration system for the Town's regional clinic in Westborough here. Marlborough is also promoting its walk-in hours and appointment registrations. You can find those details here.
Infections and Quarantines
The state's report on testing and infections on Thursday night lowered the Town's risk level to grey, the lowest risk category. The town's risk hasn't been assessed that low since mid-November.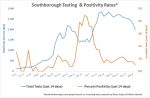 The report listed 9 cases in two weeks based on tests taken through Saturday, May 15th. The Average Daily Incidence Rate per 100,000 was 6.6 (lower than prior period) and the % of tests confirmed positive was 0.50% (also lower). (See graph right.)
The Town updated its stats as of noon today with one new case in the past week and only two still in isolation. That makes only 5 cases in the past 14 days. (Scroll down for updated graphs.)
On Sunday, the Northborough-Southborough public schools issued their updated Covid Dashboard.
It shows that numbers were up a little from the prior week, but the only reported new cases (4) were in Northborough's K-8 schools. Last week 22 students/staff were kept home for quarantines/isolations across all three towns. Another 30 Northborough students/staff were advised to closely monitor symptoms. Below are those updated details:
My graphs based on the Town data are below:
Updated (5/25/21 4:00 pm): Inserted the stats and graphs based on the Town's data updated as of noon today.