Registration is open for Jr. T-Hawks Northborough/Southborough Youth Football and Cheer.
The new season will kick off at the beginning of August. But to qualify for the early bird discount, you need to sign kids up by June 30th.* (Scholarships are also available.)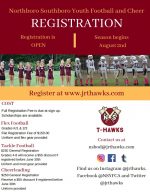 This year, the Jr. T-Hawks tackle football is open to grades 2-8. They also offer "Flex Flag Football" for grades K-3.
The football programs are open to girls, and some do participate. More sign up to be Jr. T-Hawk's Cheerleaders, open to K-8 (based on ages as of July 31st).
To learn more about the program see the flyer right or click here.
*The early bird deadline is for tackle football grades 2-8 and cheerleading, to reduce the $250 registration to $195. Flex Flag Football (grades K/1 & 2/3) has a flat reduced fee of $150, not effected by reg dates.