The Southborough Community Fund is promoting, the honoring of teachers and staff who "have worked tirelessly to ensure high quality learning experiences for our children, whether in the classroom or on Zoom."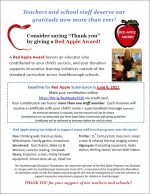 Red Apples are donations made to SCF in the name of a teacher or staff member. The program is a major fundraiser for grants to Southborough educators.
The non-profit pitches:
By participating in the Red Apples program, families can honor our amazing educators and strengthen SCF's future educational grant-making efforts. It's a win/win.
As I've previously posted, the award was formerly given out by the Southborough Education Foundation. This year, SEF was absorbed SCF in a merger. The reorganized non-profit will continue to give out grants for innovative educational programs in Southborough schools and Algonquin.
You can make your donation here. (Details are in the flyer above right.)