The Friends of the Southborough Library has teamed up with Southborough's HOLA Restaurante & Tequila Bar for a special fundraiser next week.
The community can support a local restaurant while also supporting the Library. From Monday, June 7th to Thursday, June 10th, the restaurant will kick back a portion from each pickup order to the Friends.
More good news, you don't have to remember to reference a fundraiser. The offer applies to any takeout lunch or dinner ordered those days through HOLA (or its qmenu online ordering service). [Note: The offer doesn't apply to in-person dining or to orders through delivery services.]
You can find the restaurant's details and online menu here. (Below are some of the delectable images of their "fresh authentic Mexican food" from the website and Facebook.) The menu includes Gluten Fee and vegetarian options.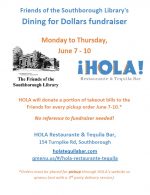 Proceeds from the Friends fundraiser are used to support the Southborough Library's programs and resources. Below are just a few of the items the Friends help fund.*
Each summer, the Friends sponsor the Summer Reading program. In addition to funding materials, this summer alone, the Friends funding at least nine programs to be held virtually or on the Library's lawn. Those include special entertainers and "crafternoon" sessions. (Stay tuned for a dedicated post on this summer's program. To save the dates for the events, you can check the the Library's calendar here.)
As always, the Friends also pay for most of the museum/venue passes that the Library offers.
Current discount passes include Boston Children's Museum, Davis Farmland, the Museum of Fine Arts, Boston Museum of Science, Trustees of Reservations Go Pass (which includes admission to Fruitlands and DeCordava museums and grounds), and Zoo New England (Franklin and Stone zoos). For the full list, click here.**
This past year, the Friends also sponsored a few of the Library's digital/online offerings added during the Library's physical closure. We supported the Library's Seed Exchange. And we paid for some of the Great Courses materials the Library added to its collection.
*[Editor's Note: Full disclosure, I serve as the President of the Friends of the Southborough Library.]
**The pass list is a little more limited than usual right now, but will continue to grow as safety restrictions for museums ease.
Updated (6/4/21 11:28 am) Thursday is the 10th (not 11th)