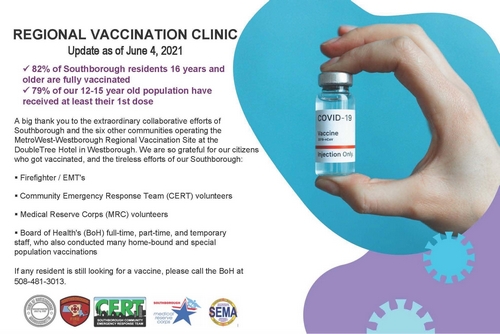 Southborough's Public Health Department asked me to share good news on the regional vaccination efforts.
A flyer touts the great numbers for Southborough teens vaccinated. They are estimating 82% of Southborough's 16 year+ to be fully vaccinated and 79% of 12-15 year olds at least partially vaccinated.
In more good news, I was able to confirm that there have been no new cases of confirmed infections since the May 25th report. As of June 1st, no cases were confirmed as still active in town. (According to Sunday's NSBORO Dashboard, no students or staff in the Northborough-Southborough public schools were confirmed infected last week either. For an updated look at the vaccination and infection stats for the town and schools, click here.)
For those still seeking a vaccine, you can call the Board of Health at 508-481-3013.
The Regional Covid Vaccine Clinic at the Doubletree in Westborough is taking walk-ins these days. (They are also honoring previously made appointments, just not making new ones.) But there are some details you should know in advance:
Walk-in hours are 2:30 – 5:30 pm the following dates – June 9, 10, 11, 16, 18, and 22.
The Clinic's last day will be June 22nd. That means you can only get one dose at that site between now and then.

For those ages 18+, you can choose the J&J one-dose vaccine (available each open day)
Anyone 12+ can also get the first dose or second dose of the Pfizer vaccine (available each open day)
Moderna (also only for ages 18+) is only available during specific clinic hours. If you need a second dose call the BOH for help with that schedule.
The Regional clinic isn't the only option for vaccinations. You can also make appointments through the state's system here.
The Town's flyer thanks all those who contributed to local vaccination efforts. That includes those who collaborated to make the Regional Clinic a success.
Credited are Southborough:
Firefighters/EMTs
Community Emergency Response Team (CERT) volunteers
Medical Reserve Corps (MRC) volunteers
Board of Health's full-time, part-time, and temporary staff
The flyer notes that BOH staff also "conducted many home-bound and special population vaccinations".
Updated (6/8/21 11:19 am): I initially misread and misstated the % of 16+ as being 16-19 year olds.
Updated (6/8/21 11:44 am): I learned that the local clinic is taking walk-ins during certain hours – and some other important details on the clinic.
Updated (6/8/21 1:14 pm): A reader pointed out a typo. The clinic's last day is June 22nd.