Ginny Martins & Associates is holding another special pop-up sale this week. The realtor will be selling "upscale staging inventory" at her downtown Southborough office (1 East Main Street.)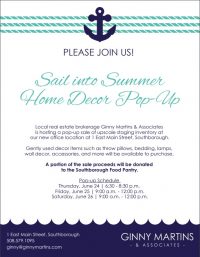 A portion of this event's proceeds will be donated to the Southborough Food Pantry.
Items for sale include gently used throw pillows, bedding, lamps, wall decor, accessories, and more.
Customers can drop-in during event hours:
Thursday, June 24, 6:30 – 8:30 pm
Friday, June 25, 9:00 am – 12:00 pm
Saturday, June 26, 9:00 am – 12:00 pm