As of yesterday's weekly update from Southborough Public Health, there is one actively confirmed case of Covid-19 in Southborough. So, it's time for an update.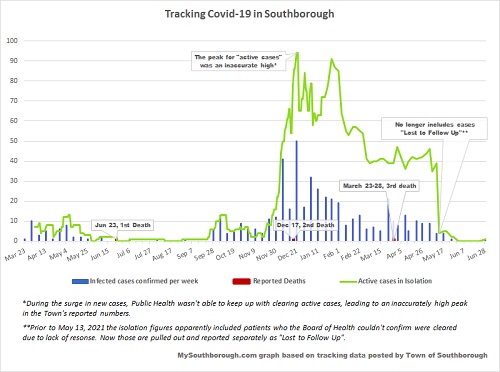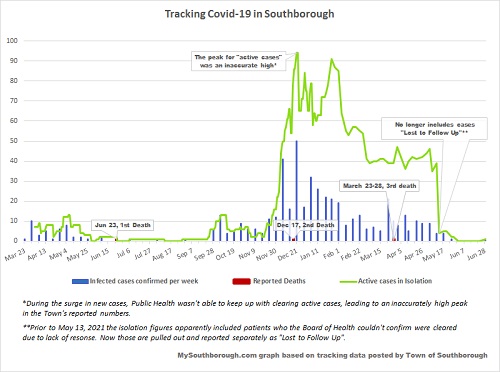 The case confirmed within the last week was the first confirmed since May 25th. Previously, no cases had been confirmed active since June 1st.
On Thursday, the state issued it's latest report for Southborough. It kept Southborough's risk at the lowest risk category – grey – for the 6th week. It also kept all of our neighbors (primary and secondary) at low risk again.
The stats included one extra positive case within the past two weeks. (Earlier last week, I confirmed with Southborough's Public Health nurse that the person from the report issued on 17th included a confirmed case of someone who no longer lived in town.)
The report indicated 1 case in two weeks (but 2 positive tests) with the Average Daily Incidence Rate per 100,000 as 0.7 and the % of tests confirmed positive as 0.32%. The report was based on data covering the 14 day period ending on June 19th.
(For details on the Town and state data, click on graphs above and below.)





The Regional Covid Vaccine Clinic wrapped up last Tuesday. But there are still many options. To find a clinic/location to recieve a Covid Vaccine (including follow-up doses) click here.
The close down of last week's clinic reflects the decreased demand for the clinic's services over time.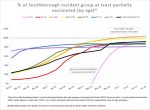 As of last week's report tracking data through June 22nd, 8,091 Southborough residents had received shots. While the vaccination rates are high compared to many communities, the number of residents getting vaccinated has declined over several weeks, with vaccination curves flattening out. (See image right.)
It is worth noting again, that the state and Town are currently unable to track if residents were vaccinated in other states. (Like senior "snowbirds" or college students.) It's also worth noting that the state's population data for Southborough was clearly outdated. While I've tried to extrapolate data from 2019 census reports which appear to be more accurate, that's not fully accurate either. So these percentages are just rough estimates.
My extrapolated data indicates about 84% of residents ages 20+ were fully vaccinated, and another 8% were partially vaxxed. Plus, 91% of teens were at least partially vaccinated and 77% fully vaccinated.
More highlights by age group and gender are in charts below:




(For more details on those groups, plus race/ethnicity data, click here.)