[Updated (7/19/21 10:55 am): The Knock on Wood concert is being pushed further to Monday, August 30th.]
Knock on Wood was scheduled to kick off Southborough's Summer Concert Series tonight. Unfortunately, thunderstorms in the forecast are forcing a postponement. The duo is now rescheduled to perform on Monday, July 19th.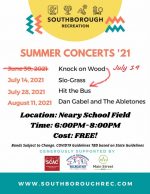 That means the first concert in the series lineup is now Slo-Grass on July 14th. I'll be writing more about them in the future, but for now, you can check out their performance on the Neary stage in the 2019 summer series here.
All of the concerts will take place from 6:00 – 8:00 pm at Neary School's field, 53 Parkerville Road. Two other acts are scheduled for July 26 (Hit the Bus) and August 11 (Dan Gabel and the Abletones). I marked up the flyer right with the updated schedule.
In the meantime, Southborough Recreation is bringing a different kind of fun to the Neary campus next Wednesday, July 7th. They'll be screening the Lion King (the 2019 live action version) on an outdoor movie screen as part of their summer movie series.