The Southborough Library added another online resource this summer. It's one that's handy if you're considering a big purchase soon. (Or even for small, every day purchases.)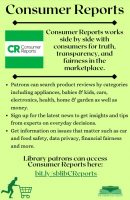 Patrons can now use their library cards to access information from Consumer Reports:
The Southborough Library is offering access to a new online resource! With a valid library card, Consumer Reports can be accessed online from home through the library's website. Users can read reviews, ratings, and recommendations of a huge array of items, services, stores, and systems. News articles on recent developments are available for browsing.

The online magazine also offers buying guides with suggestions and precautions to keep in mind. One key feature is "Build & Buy Car Buying Service" to help narrow down the right new or used car available in the area. Explore additional research databases by clicking here, or access Consumer Reports directly here: bit.ly/sblibCReports.