Practice begins for Northborough/Southborough Youth Football and Cheer in less than two weeks. According to a new outreach effort, they still need more athletes in some age groups/categories.
Jr. T-Hawks asked me to share their news. They are still looking for kids to sign up for the following: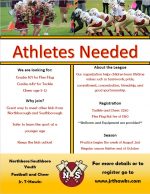 A flyer pitches:
Why join?

Great way to meet other kids from Northborough and Southborough

Safer to learn the sport at a younger age

Keeps the kids active! . . .

About the League

Our organization helps children learn lifetime values such as teamwork, pride, commitment, concentration, friendship, and good sportsmanship.
Registration costs $150 for Flex Flag and $250 for Tackle Football and Cheer. (Uniforms and equipment are provided at no extra cost.) Jr. T-Hawks does generally offer scholarships, but I'm not sure of that status at this late date.
The season begins with practices the week of August 2nd and finishes at the end of October. To learn more about the Jr. T-Hawks program see the flyer above right or click here.