The National Weather Service's forecast shows potential high heat indexes of 98º in Southborough tomorrow afternoon and 107º and 101º the next two afternoons. In response, the Town of Southborough will use two of its municipal buildings as Cooling Centers.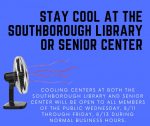 Cordaville Hall (9 Cordaville Road), also the site of the Senior Center, will be open to all ages from 8:30 am – 3:30 pm on Wednesday and Thursday and 8:30 am to noon on Friday.
The Southborough Library's hours are 10:00 am to 9:00 pm on Wednesday and Thursday and 10:00 am to 5:00 pm on Friday.
Of course, spending too many hours at those facilities might make you a little stir crazy. If you are looking for alternative local locales to beat the heat this week, check out my post from earlier this summer. (Some of the businesses may have changed their hours since I researched them in June. So, be sure to double check before heading out.)
During a previous heat wave this summer, the Southborough Board of Health warned residents:
People should continue to take extra precautions working or spending time outside. Strenuous activities should be rescheduled to early morning or evening. Know the signs and symptoms of heat exhaustion and heatstroke. Wear lightweight and loose-fitting clothing when possible, and drink plenty of water.

As a reminder, young children and pets should never be left unattended in vehicles under any circumstances. Car interiors can reach incredibly high temperatures in a matter of minutes. Check on your neighbors and loved ones, as well.
Above right is a flyer shared in June by the Town on avoiding heat exhastion or heat stroke, and the signs to look for. (If you are having trouble reading that, try clicking here.)