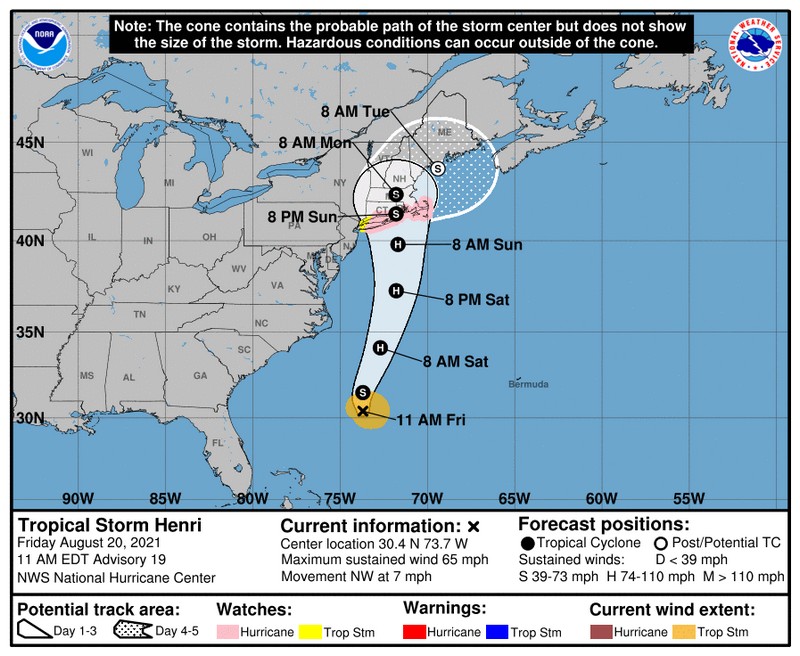 You've probably heard reports of Tropical Storm Henri threatening to bring a hurricane to Massachusetts in the next few days. The impact on our region is still unclear, but we should see a prolonged rainstorm with high winds at the very least.
Southborough Emergency Management shared an update, along with important safety reminders to be prepared:
In just about every current scenario, long-duration heavy rainfall and subsequent urban and river flooding will be the greatest concern in the Southborough area, but winds are certainly a concern as well. Rain amounts and wind strength will be greater the closer we are to the eye. Again, all areas get wind and rain, but the strongest winds tend to be on the east side and larger rain amounts on the west side.

Beyond flooding, the most common hazards to our area will include​ downed limbs and powerlines, power outages, and impacted travel due to debris and flooding. Based on the final track, power outages could be widespread with restoration taking days or longer.

At this time everyone should be finalizing their review of family emergency plans and kits and stocking up on priority medical supplies, especially spare oxygen bottles. Also take this time to:

Test your smoke detectors and Carbon Monoxide detectors to ensure proper operation & replace back up batteries
Review generator safety information (see attached information) and test for proper operation
Ensure that cellphones, etc. are charging properly

Stay tuned to local forecasts, the next few track model runs will be significant.
Looking at the hourly data from the National Weather Service this morning, it appears that we may see some rain starting before noon on Saturday and throughout the day. But the real impacts from Henri aren't expected here until Sunday.
Rain is likely to intensify and continue all day Sunday and much of Monday, possibly even through Tuesday morning. The peak high wind gusts (over 40 mph) are now forecast for early Monday morning.
All of that could change. To keep an eye out on the developing forecasts, you can follow NWSBoston on Facebook and visit their website here.