For residents who prefer attending a community clinic to get vaccinated*, the Board of Health is sharing good news. Ashland is running a Covid Vaccine clinic with J&J and Pfizer this coming Tuesday morning.
The clinic will be run Tuesday, August 24th from 8:00 am – noon. It's being held at Mass Bay Community College, 270 Eliot Street, Ashland. It is open to anyone 12 year olds and up. The clinic will be offering both Pfizer and Johnson & Johnson.
To register, click here.
While I'm sharing that, I'll also share the latest data reported for Southborough by Mass Dept of Public Health last night.
8,432 Southborough residents were at least partially vaccinated by August 17th. At this point more residents under the age of 50 are at least partially vaccinated than any estimated populations tracked for those age groups.
About 13% of estimated ages 50+ still remain unvaccinated and 6% of that age set have remained only partially vaccinated with almost no change over the course of the summer. Although, as I have previously noted, the vax data is based on in-state shots and can't track anyone who was vaccinated out of state. That may mean some vaccinated "snowbirds" aren't included in the figures.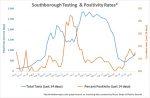 The weekly Covid report indicated 11 cases in two weeks. The reports are issued on Thursday evenings, based on data covering the 14 day period ending on the prior Saturday. (The Town's report on new cases is issued weekly on Monday's these days. So, I can't report yet if there are any new cases since Monday night.)
The Average Daily Incidence Rate per 100,000 for the two weeks was 8.1 (higher than prior period) and the % of tests confirmed positive as 1.49% (also higher). See my tracking of the testing & positivity rates right.
*You can also get vaccinated at many area pharmacies, but the BOH is aware that some people feel more comfortable with community clinics. To find other options for getting vaccinated, click here.