As of this morning, the Southborough Board of Health is showing 8 residents in isolation for active cases of Covid-19. The total cases over the course of the pandemic is now 566. That's 14 cases in just over one week (7 since Friday). It's 19 cases in 15 days.
Last week's report from Mass Dept of Public Health (issued September 2nd)* indicated 22 cases in two weeks. The Average Daily Incidence Rate per 100,000 was 11.8 (higher than prior period) and the % of tests confirmed positive as 1.90% (also higher).
For details, see graphs below: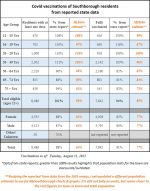 As of the latest report, 8,486 Southborough residents had received shots by August 31st.
My data indicates 89% of residents old enough to be eligible for shots are fully vaccinated, and another 7% are partially vaxxed.** The largest number of unvaccinated residents continues to be 50-64 years old. (To find options for getting vaccinated, click here.)
More highlights by age group and gender are in the chart above right and graphs below. (They include vaccination progress zoomed in on summer months.):
(For more details on those groups, plus race/ethnicity, click here.)
*The state's report was based on tests taken in the 14 day period ending on the prior Saturday.
**Population figures are just estimates. I use demographics extrapolated from 2019 census data since the state's population data was clearly outdated.