The Friends of the Southborough Library are partnering with the "Fudge Lady" for a fundraiser this fall. They are selling a dozen flavors of handmade fudge. Flavors include classics, popular specialties, and fall favorites.
To support the fundraiser, patrons can place orders between now and September 30th. Pickup will be available on Heritage Day, Monday, October 11th.
Orders can be placed at the Library's checkout desk, by mail, or at tomorrow night's Food Truck Festival. (The Rotary Club is allowing the Friends to sell fudge at a table on the field. Volunteers will be there from 4:30 – 6:30 pm.)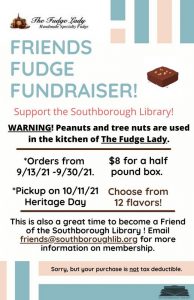 Available flavors are:
Milk Chocolate (plain)
Milk Chocolate with Nuts
Dark Chocolate (plain)
Dark Chocolate with Nuts
Peanut Butter Chocolate
Cookies and Cream
Bailey's with Coffee and Chocolate
Pumpkin
Maple (plain)
Maple with Nuts
Sea Salt Caramel with Dark Chocolate
Vegan Chocolate
Half pound boxes are being sold at $8 each and payment is due up front. A significant portion from each box of fudge sold will go to the non-profit supporting Library resources and public programs.
To open a pdf of the order form, click here. (Order forms are also available at the Library's checkout desks.)
[Note: All fudge is prepared in a kitchen with tree nuts and peanuts.]