If you are thinking of attending any of the remaining three Food Truck Festivals, you may want to do a little shopping first. Southborough Rotary is collecting "Sweats For Vets" at the events. Those who participate will get a $10 food voucher in return, courtesy of Main Street Bank.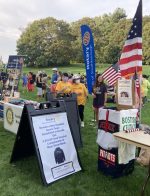 To qualify, bring an adult sized New England Sports Team themed hoodie or sweatshirt to donate. The contributions will be distributed to homeless veterans.
The drive will take place each night of the festival, scheduled for Wednesday evenings from 3:30 – 6:30 pm through October 6th.
Each night, four food trucks serving a variety of dinner options will be parked on St. Mark's Field, at the intersection of Routes 85 & 30. (For a look at my pics and video from this past Wednesday evening, click here.)
You can learn more at Sweats4Vets.com.