Southborough Recreation has announced that they will hold the traditional Heritage Day Parade on Monday, October 11th.
Initially, the plan for the day was to allow booths on the field but no parade. Rec announced the exciting change of plans yesterday. This morning, a parade registration link was added to their website.
If you have a community group that intends to march, they are asking you to sign them up. (Traditionally, the parade is chock full of scouts, youth sports associations, and community organizations.)
I'm told that while parade details are TBA, it is expected to follow the traditional route and timeline. That means the registration page's referral to 9:00 -10:30 am includes organizing parade participants prior to marching. Expect the parade to actually step off at 10:00 am.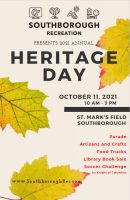 As already advertised, you can also expect Heritage Day festivities to include food trucks and booths on the downtown St. Mark's field featuring artisans, crafts, community group fundraisers, and more.
Other fun confirmed for the weekend (with details TBA) include the Knights of Columbus' Soccer Challenge (on the field), Friends of the Library Book Sale (across the street), Rotary Club's Pumpkin Stroll (the evening prior), and Southborough Golf Club's ALS One fundraiser (all weekend). Friends of the Library will also be offering a virtual walk/run overlapping the weekend.
Stay tuned for more details on the weekend's fun.
To register to march (or for a booth on the field), click here. (Once you complete the registration under your name and "check out", the website will prompt you to fill in fields to describe the group that is marching, how many people you expect to join you, etc.)