This weekend, the Southborough Rotary Club will host their annual Pumpkin Stroll.
It will be the first opportunity to see the jack-o-lantern display lit up after dark since 2018. (2019's event was held before sunset due to a EEE threat. And we all know what happened last year.)
As is tradition, the event will take place the night before Heritage Day. This year, that's Sunday, October 10th.

Carved or decorated pumpkins should be dropped off from 4:00 – 6:00 pm.
Participants are encouraged to find a place to display their gourds on the stone wall surrounding the Old Burial Ground on Common Street and Saint Mark's Street.
Once again, Rotary is using the event to collect items for the Southborough Food Pantry.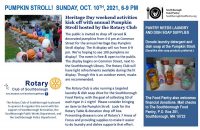 They are asking for contributions of laundry detergent and/or dish soap. You can drop your donations in the collection box at Rotary's table in front of the Southborough Library's Main Street entrance.
For those unfamiliar with the event, Rotary's table is right before the starting point of the stroll.
The community is invited to walk past the lit display of silly, scary, grotesque, creative, and even beautiful carved gourds. I've included some pics from past displays below.
(For photo galleries from the past several years, click here.)