Monday is The Friends of the Southborough Library's Heritage Day Book Sale. The Friends will again offer one free book per child.
The big sale includes a large selection of fiction and non-fiction hardcover and paperback books for adults, children, and young adults.

The Friends will also offer its stuff a bag sale deal. So, if you purchased a Friends' tote in the past, be sure to bring it with you.
If you don't have one, you can buy one there (as long as supplies last).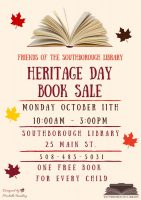 The sale will be held in the Library parking lot, right across from the main field. This year's hours are 10:00 am – 3:00 pm.
Anyone who wants to volunteer to help us out for a shift sometime that day, please email friends@southboroughlib.org. (Setup begins at 9:00 am.)
If you are interested in supporting the Friends, you may also be interested in the Reading Run or Story Stroll fundraisers going on this weekend through next. Click here for those details.
Proceeds from the Friends' fundraisers are used to support Library resources and programs not covered by the regular budget. That includes most of the Library's discount passes to museums and venues, many children's programs throughout the year, and programs for adults and young adults.
[To look for information on other Heritage Day events, click here.]