The Southborough Firefighters Association is happy to announce they are bringing back their annual Halloween Parade and costume party.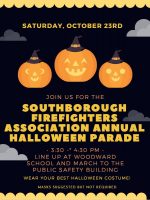 I don't have all the details yet, but they have been getting enough inquiries to start spreading the word.
The festivities will take place on Saturday, October 23rd. Marchers are asked to line up at Woodward School starting at 3:30 pm. From there they'll march to the Public Safety Building. The event is scheduled to run until 4:30 pm.
Stay tuned for more details (plus some other Halloween celebrations).
Updated (10/13/21 8:46 am): I forgot to note that masks are encouraged but not required.
Updated (10/13/21 1:50 pm): I got more details to share. The event will be held in the apparatus bays with all doors open for ventilation. There will be a costume contest. They will also have some light refreshments and candy to hand out.
The Fire Department and Southborough Recreation coordinated the timing of the Town's Halloween celebrations also taking place that day. Stay tuned for news on Rec's "Trunk or Treat" and outdoor movie night over on Woodward School grounds following the SFA parade and party.