As of yesterday morning, the Southborough Board of Health is showing 9 residents in isolation for active cases of Covid-19. The total cases over the course of the pandemic is now 636. That's 11 cases in 6 days and 17 in two weeks.
Last week's report from Mass DPH (issued October 12th)* also indicated 17 cases in two weeks with the % of tests confirmed positive as 0.89% (<0.1% difference from prior report). The Average Daily Incidence Rate per 100,000 was 12.6 (lower than prior period).
For details, including a look at the Average Daily Incidence Rates in our region, click on thumbnails below: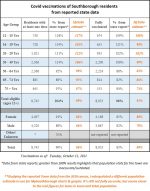 As of last week's state report – 8,743 Southborough residents had received shots (as of October 12th).
I'm estimating 91% of residents old enough to be eligible for shots are fully vaccinated, and another 8% are partially vaxxed.* See details below:
(For more details on those groups, plus race/ethnicity, click here.)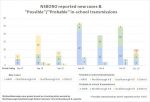 The most recent Northborough-Southborough Public Schools District Dashboard covered through Wednesday, October 13th. The Daily Case Counts reported several more cases in the following two days (through October 15th).
Based on the combined reports, 35 new cases were confirmed over 9 days. Three were in Southborough K-8. Fifteen were from Algonquin (making it 26 cases in at the high school in just over two weeks.)
Of the cases from October 7-13, four were reported as "possible in-school transmissions". The district clarified in the reports that there was one "probable case" this year. (That was in September at Finn School).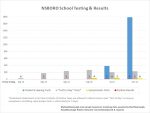 The Dashboard covered the first week that the entire district was invited to participate in the pooled screening program. (The prior period was just Algonquin.) The screening confirmed 6 asymptomatic students/staff as infected. Another 2 cases were identified through the school's "Test to Stay" program.
Reminder – Testing Sites and Vaccine Clinics:
*The state's report was based on tests taken in the 14 day period ending on the prior Saturday.
**Population figures are just estimates. I use demographics extrapolated from 2019 census data since the state's population data was clearly outdated.