The Algonquin Boys Hockey Team is holding their annual fundraiser that's a fall highlight for many kids in Southborough and Northborough.
1st-8th graders are invited to form teams and come out to play. The game doesn't involve pucks. Instead, kids are challenged to throw, catch, and dodge.
The Dodgeball Tournament will take place on November 20th.
Players register as a team of 8-10 players at $100 per team.* Teams are divided by age groups with playoffs. (Each team is guaranteed at least three games.)
Every year, teams are encouraged to get creative with their team t-shirts. Prizes are awarded for the best design.
Other fun includes raffles and concessions. All proceeds benefit the team.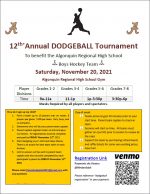 The Saturday, November 20th tournament will again be held in the Algonquin Regional High School gym. The time slots are:
Grades 1 & 2 – 9:00 – 11:00 am
Grade 3 & 4 – 11:00 am – 1:00 pm
Grades 5 & 6 – 1:00 – 3:30 pm
Grades 7 & 8 – 3:30 – 6:00 pm
Registration and completed payments are due by Friday, November 12th. (Parent waivers must also be submitted by that date.)**
For more details, read the flyer. To register, click here.
Please email any questions to: thawkdodgeball2021@gmail.com. For updates and more information, check out the Facebook page.
At the last fundraiser (in 2019), Kosovsky M Photography captured some great action shots for the page with teams happily posing and teamwear to smile about:
*Only 8 team members are allowed to play in each game, but additional players can be rotated in/out between games.