The Massachusetts Sibling Support Network will hold a webinar for Northborough and Southborough parents next month.
The session is organized by NSPAC (The Northborough Southborough Special Education Parents Advisory Council).
The council frequently offers workshops and talks to help members deal with issues related to helping their children with disabilities.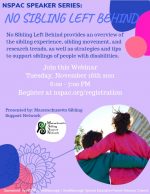 This time, the focus is on those parents' other children:
No Sibling Left Behind provides an overview of the sibling experience, sibling movement, and research trends, as well as strategies and tips to support siblings of people with disabilities.
The zoom session will take place on Tuesday, November 16th from 6:00 – 7:00 pm.
To register, click here.
The Massachusetts Sibling Support Network supports siblings of people with all types of disabilities in Massachusetts. This is offered across the sibling's lifespan and includes providing information and education, creating welcoming communities for siblings, and improving access to sibling services. To learn more, click here.
To learn more about NSPAC, click here.