About a month ago, I shared a request for the community to start putting aside their winter gear for a special TBD swap. The date has been announced as this Sunday, November 7th.
Southborough Kindergroup and Southborough Youth and Family Services are teaming up by collecting items that infants, children and teens need for the coming winter.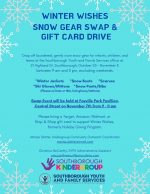 They are asking the public to donate gently used (and laundered/cleaned) winter coats, snow bibs, boots, ski gloves, etc.* this week. Southborough families who participate are then welcome to come to the swap this Sunday to pick up items they need for their families.
You can drop off items now through this Friday from 9:00 am to 3:00 pm at the SYFS office at 21 Highland Street.
While the swap is geared to juveniles, many teens wear adult sized clothing. So, adult castoffs will be welcome, too.
(And, of course, you can donate even if you don't plan to swap anything out.)
The swap is scheduled for Sunday at the Fayville Playground outdoor pavilion on Central Street from 9:00 – 11:00 am.
At the event, organizers will also be collecting gift cards for the SYFS' Winter Wishes (formerly known as the Holiday Giving) program. You can bring gift cards to Target, Walmart, and Stop & Shop.
If you have any questions, please email Kindergroup's Marisa Slatter (marissa.slatter@gmail.com) or SYFS' Christina McCarthy (cmcarthy@southboroughma.com).
*The drive won't be accepting hats or thin, knit kids' gloves.