I'm behind in sharing this week's update on Covid figures and vaccinations in Southborough and the schools. The news that came out in the past week isn't great.
Southborough Board of Health updated their Covid figures as of noon on Monday. There were 30 new cases confirmed in one week and 36 cases in two weeks. It's the largest increase in cases over a week in Southborough since early January.
The Town's cumulative total over the course of the pandemic is 672 cases with 32 cases labeled active. (That's the highest at once since early May.) For details, click on thumbnails below:
Earlier this fall, the Town announced a local option for drive thru testing. To take advantage of the opportunity, click here for details.
Over the past week, the Town announced plans for more Covid Vaccine Clinics.
With a recent outbreak reported at Neary School, a significant number of recent infections were in the under 11 year old age group.
The most recent Northborough-Southborough Public Schools District Dashboard covered through Wednesday, October 27th, but Daily Case Counts covered additional cases through yesterday.
NSBORO New Cases & Transmissions
In 13 days, 42 new cases were reported in NSBORO schools, 35 from Southborough K-8. 20 were reported at Neary alone over the course of 8 days.
There were 4 new cases of "possible in-school transmissions" reported from 10/21 – 10/27. It's too soon to report the number since. (Look for an updated Dashboard with more details on NSBORO's site tomorrow.)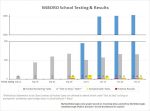 NSBORO Testing
The latest Dashboard showed pooled screening confirmed 2 asymptomatic students/staff came as infected.
4 other cases were identified through the school's "Test to Stay" program and one through tests of a symptomatic students/staff.
For instructions to participate in the schools' screening testing program for students, click here.
Vaccination rates
As of last week's report by Mass Dept. of Public Health on vaccinations by town – 8,839 Southborough residents had received shots (as of October 26th).
See demographic details below:*
(For more details on those groups, plus race/ethnicity, click here.)
The recent Covid cases represent a spike since the last report by Mass Dept. of Public Health (issued October 28th)** which indicated 16 cases in town over two weeks. In that report the % of tests confirmed positive was 1.02% (lower than the prior report). The Average Daily Incidence Rate per 100,000 was 11.8 (also lower than the prior period).
For details, including a look at the Average Daily Incidence Rates in our region as of that report, click on thumbnails below:
*Population figures are just estimates. I use demographics extrapolated from 2019 census data since the state's population data was clearly outdated.
**The state's report was based on tests taken in the 14 day period ending on the prior Saturday.