Every year, the Girl Scouts hold a traditional holiday sing-along every year. Part of the celebration is lighting up the Community House for the season in time for "Santa Day". With that coming up the first Saturday in December, the sing-along falls on the first Friday, December 3rd.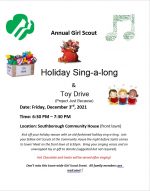 The Girl Scouts will celebrate on the Community House lawn from 6:30 -7:30 pm.
Families of all Girl Scouts in town are invited to join the free festivities. That includes singing seasonal favorites. There will also be hot cocoa and treats to cap off the evening.
Participants are encouraged (but not required) to bring unwrapped toys to donate to Project Just Because. Toys donated will be contributed to Project Just Because in Hopkinton.
The event takes place even in rain or snow (unless conditions are unsafe).

It's over a week away, so too early to predict the weather. Since my family joined the scouts, it seems to rain on this night, as often as not. Still, it hasn't seemed to dampen the carolers' spirits. So, if it does rain, just break out your umbrellas and boots, and head to the Community House for an evening of fun.