In honor of Giving Tuesday, I'm running my annual roundup of holiday collection drives in town.*
Project Just Because (through the Southborough Fire Department)
The Southborough Fire Department is again collecting gifts for this Hopkinton based charity.
Please try to get new, unwrapped donations in by Tuesday, December 14. The Fire Department is always open, so drop off any time in the vestibule at 32 Cordaville Road.
(If you're a Girl Scout family, you can bring your donation to this Friday night's sing-a-long at the Community House. The organizing troop collects gifts for to add to the SFD's drive.)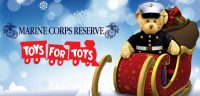 Toys for Tots (three drop off spots in town)
Three organizations in town are running their annual collection for the cause.
Since 1947, Marines have been collecting gifts for underprivileged children. Gifts can be for ages anywhere from 1-16 years old.
Drop off your new, unwrapped gift donations soon at one of these locations:
Southborough Senior Center
9 Cordaville Road
Mon-Fri 8:30 am – 3:00 pm
Deadline – Wednesday, December 15
Southborough Veterinary Hospital
78 Deerfoot Road
Mon-Fri 8:00 am – 6:00 pm
Deadline – Thursday, December 9
Long Cadillac
218 Turnpike Road
Mon – Thurs 8:30 am – 7:30 pm, Fridays 8:30 am – 6:00 pm, Saturdays 9:00 am – 5:00 pm, Sundays noon – 4:00 pm
Deadline – Thursday, December 9
*If you're looking for information on Southborough Youth and Family Services' annual Holiday Giving Program, that has already wrapped up. SYFS informed me that this year, they successfully focused on group donors (businesses, schools, churches, etc) instead of seeking individual contributions from the community at large.
Updated (12/1/2021 12:52 pm): Fixed a typo in the Senior Center deadline. That Wednesday is the 15th (not 18th)!