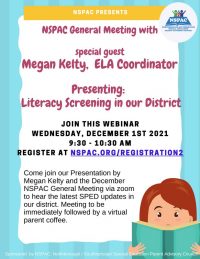 This Wednesday morning, December 1st, The Northborough Southborough Special Education Parent Advisory Council is holding another webinar. This time, the focus is on Literacy.
The new English Language Arts Coordinator for Northborough-Southborough Public Schools, Megan Kelty, will join NSPAC's monthly meeting. Kelty will provide an overview of the new literacy assessment program being rolled out across the district.
Following the presentation, NSPAC will hold its December General Meeting to discuss SPED updates in the district and host a Virtual Parent Coffee.
The meeting takes place over zoom at 9:30 am. To register, click here.