Next week, local artisans will again band together to hold the 12th annual Art & Gift Sale in Southborough. Attendance is open to the public and free.
[Editor's Note: This is not to be confused with the local events for artists and artisans this Saturday.]
A few years ago, the original sale at Chestnut Hill's "Stables" (across from Chestnut Hill Farm) expanded to include a satellite location at the L'Abri Fellowship center. Last year, L'Abri was the sole location with an outdoor sale much earlier in the fall than usual. This year both "beautiful, historic homes" will again host the joint sale.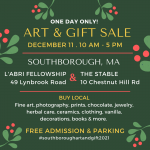 Organizers promise over 20 local artists and artisans selling fine art, ceramics, jewelry, chocolate, herbal care, clothing, vanilla and more.
Masks are required indoors, but refreshments will be available outdoors at both locations.
Both locations will also hold their traditional raffles for charity:
One long-standing tradition for the sale are the raffles of items donated by the artists, available at each house, supporting local non-profits. This year proceeds from the raffle at L'Abri Fellowship will benefit Welcoming Alliance for Refugee Ministry (WARM), and proceeds from the raffle at The Stables will benefit Fishing Partnership Support Services. Raffle tickets are $2/each or $20 for 12.
The sale is scheduled for Saturday, December 11, 9:00 am – 5:00 pm at:
L'Abri Fellowship at 49 Lynbrook Road
The Stables at 10 Chestnut Hill Road
The locations are just a 1/2 mile apart, making it easy to shop both.
For a look of what to expect, organizers encourage following #southboroughartandgift2021 on Instagram.