Earlier this fall, I shared details on Southborough Youth & Family Services' in person QPR Gatekeeper Suicide Prevention trainings. (If you missed it or need a reminder of what that's about, scroll down.)
As I noted then, each workshop will have limited registration available.
Dates are coming up for two more sessions this month:
Saturday, December 11th 9:00 – 11:00 am
Wednesday, December 15th 6:00 – 8:00 pm
[Editor's Note: Posted dates have filled up, but you can sign up for the waitlist.]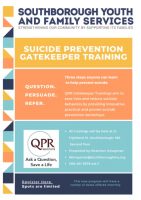 If you are interested in signing up for either, let SYFS know here.
Below are more details on what QPR training is about and why SYFS is providing it to the community.
SYFS promotes:
Suicide is the tenth leading cause of death in America but when surveyed, 93% of Americans believe suicide can be prevented. (CDC, 2019) Luckily they are right: it is often and easily the most preventable cause of death.

The QPR Gatekeeper Training is considered a "program with evidence of effectiveness," which means that it is a SAMSHA-approved program with data supporting its efficacy.
QPR stands for the three critical steps in the prevention method, "Question, Persuade, and Refer":
Not unlike CPR, an acronym used to help people remember how to start the process of saving a life until a professional can intervene. . . The two-hour course teaches anyone how to recognize suicidal behavior, how to ask the "suicide" question, where to refer a person in need of help, and an opportunity to ask lots of questions and try out their new skills with role plays.
Here is more from SYFS' prior announcement:
Southborough Youth and Family Services is excited to announce that throughout this and next year, they will be offering QPR Gatekeeper Suicide Prevention trainings. . .

The program will be taught by Shannon Kinayman, the program coordinator at SYFS. The department's goal is to train at least 100 Southborough residents and municipal employees.

Many will remember that SYFS offered an online version of this training in 2019. While the online version is still a great way to gain these skills, in-person training allows for questions to be answered in real time as well as opportunities to try out the skills which, for many, can be awkward or even scary.
If you have questions or need help registering, call Shannon Kinayman at 508-481-5676, ext. 3. SYFS program and events page will be updated as future workshops are scheduled. You can look for that information here.
This program is being funded in part through a donation from the non-profit Southborough Community Fund.
Below are more visual messages about suicide and prevention shared on social media by the QPR Institute.
Updated (12/8/21 1:16 pm): [Editor's Note: Posted dates have filled up, but you can sign up for the waitlist.]