Seussical appears to be the school musical this fall. A few weeks ago, Algonquin students performed the Dr. Seuss themed play. That same weekend, Westborough's Mill Pond students put on the "Kids" version. And next week, Neary students will bring their personalities to the performance.
As usual, Neary's production is through an after school program run by SkyRise Theater. (This year, there is only one cast.)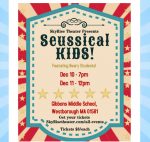 The Southborough 4th and 5th graders will be performing at Westborough's Gibbons Middle School (20 Fisher St). You can attend the show on Friday, December 10th at 7:00 pm or Saturday, December 11th at 12:00 pm.
To purchase tickets in advance (at $8 each), click here.
For those unfamiliar with the play, the fantastical story is a family friendly one that brings to the stage several of Dr. Seuss' most well known characters:
The Cat in the Hat tells the story of Horton, an elephant who discovers a speck of dust that contains the Whos, including Jojo, a Who child sent off to military school for thinking too many "thinks." Horton faces a double challenge: not only must he protect the Whos from a world of naysayers and dangers, but he must guard an abandoned egg, left in his care by the irresponsible Mayzie La Bird. Although Horton faces ridicule, danger, kidnapping and a trial, the intrepid Gertrude McFuzz never loses faith in him. Ultimately, the powers of friendship, loyalty, family and community are challenged and emerge triumphant.
The Kids version is a shortened script of the full production. (About one hour of stage time.)