The administration asked me to share their advertisement for workers in the lunch room. Their pitch is geared to parents of students in the schools.
Since I'm sharing that, I checked on their other job postings for Southborough, the district, and Algonquin.
(If you'd like to share your company's job openings in future weeks, email mysouthborough@gmail.com.)
Public Schools of Northborough and Southborough
The Public Schools of Northborough and Southborough are currently hiring for our Food Services Departments K-12.
High School regular and substitute positions
Elementary and Middle School substitute positions
…and other substitute positions as well!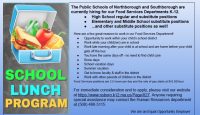 Here are a few great reasons to work in our Food Services Department!
Opportunity to work within your child's school district
Work while your child(ren) are in school
Work late morning after your child is at school and are home before your child gets off the bus
You have the same days off – no need to find child care
Snow days
School vacation days
Summer vacation
Get to know faculty & staff in the district
Work with other parents of children in the district
Food Services positions are 3.5 hours per day and the rate of pay starts at $16.50/hour.
For immediate consideration and to apply, please visit our website at https://www.nsboro.k12.ma.us/Page/827. Anyone requiring special assistance may contact the Human Resources department at (508) 486-5115.
They are currently also advertising the following district/Southborough/Algonquin positions [Note: I can't be sure that all of these positions dating back to October are still open but they are still listed.]:
In addition, they are advertising several positions at Northborough schools. Click here to learn more about the school district and job opportunities.