The Southborough Library has announced a special "Holiday Cards Community Volunteer Project".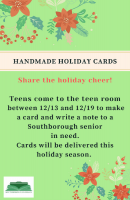 Teens and tweens are invited to make a handmade card or write a note for Southborough Seniors in need of some holiday cheer this season. The Library has put out supplies in the Teen Room. Drop-in anytime during Library hours through this Saturday.
Get creative and decorate any way you like to bring smiles to the community. We truly appreciate your support of this fun and important project that can make a difference in the lives of our residents.
The cards will be delivered this holiday season. If you have any questions, contact Mariana Sorensen at 508-485-5031 or msorensen@southboroughma.com.