On Tuesday, December 21st, Algonquin will hold its annual holiday music festival. The public is invited to attend the big concert featuring school instrumental and vocal groups.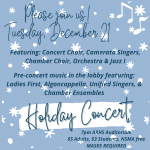 The main event is in the auditorium at 7:00 pm featuring the Concert Choir, Camerata Singers, Chamber Choir, Orchestra & Jazz I.
Prior to the concert, entertaiment in the lobby will include performances by Ladies First, Algoncappella, Unified Singers, & Chamber Ensembles.
NSMA members can attend for free. For non-members it's $5/adult $3/student. (If you would like to learn about becoming a member of the Northboro-Southboro Music Association, click here.)
Masks are Required.
Updated (12/16/21 10:38 am): For those who are unable to attend, the concert will be livestreamed by Northborough Cable Access over YouTube here.