The bad news on the Covid front is a massive surge in the number of new cases reported over the past two weeks. The good news is that the state is reporting that a good portion of the Town has received Vaccination Boosters. So, I'm hoping that most of the cases are fairly mild.
The Town has posted that Covid cases spiked over the holidays with 192 new cases in two weeks as of last night. It's by far the largest surge we've seen, representing 18% of the total cases throughout the pandemic.
The most vulnerable age group, 70+ years old, was the one least impacted (at least in sheer numbers, with only 2 cases). The biggest spike in recent cases were among teens. The age group that has the highest number of cases throughout the pandemic is now the youngest group.
Given the figures, it's not surprising that Northborough Southborough Schools are also reporting a surge. As of this evening, the combined district has reported 226 new cases since December 22nd. The surge represents 38% of the total cases this school year. 109 cases were among Algonquin students/staff and another 47 from Southborough K-8 schools.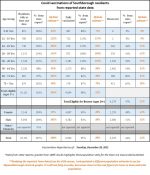 The CDC has been recommending booster shots for ages 16+ to mitigate the risk of serious illness. As of December 28th, over 40% of Southborough residents had received them. (About half of those eligible.)
Looking at the numbers, it looks like a small percentage of residents are unvaccinated (although, clearly the state's data on our population is outdated, so there may be additional unvaccinated residents not represented by the figures.)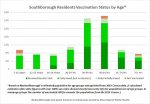 Metrowest Daily News recently covered Southborough's success in vaccinating residents and shared advice from Public Health Director Dr. Heather Alker for other towns struggling. You can read that here.
Tomorrow at noon, the Board of Health will be meeting. Among the topics are a mask advisory for the Town and logistics for the Annual Town Meeting scheduled for March. They are then scheduled to discuss Town Meeting with the Board of Selectmen that evening.