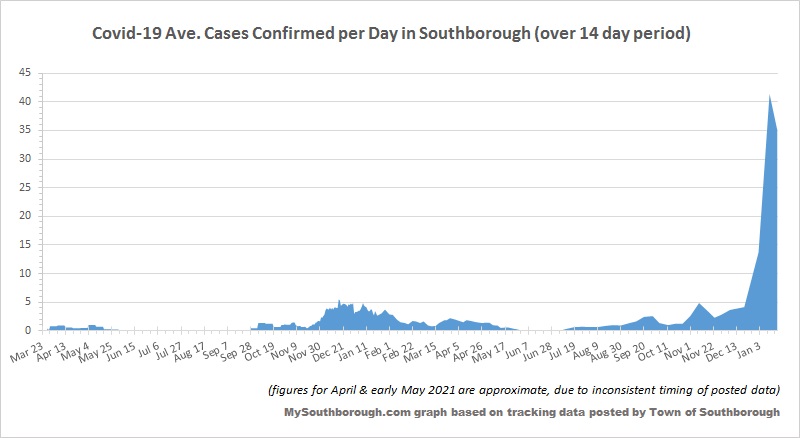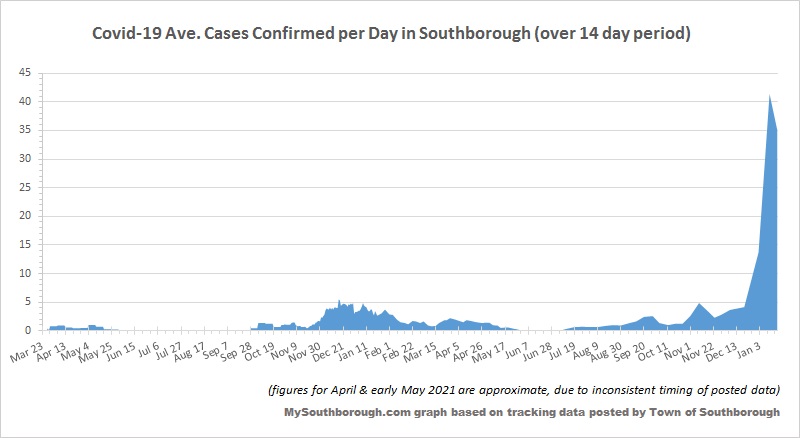 On Wednesday afternoon, the Town updated its data. The public schools updated theirs yesterday and the state last night. So, it's a good time for an update. All signs indicate that the spike in Covid cases may have peaked. (Fingers crossed.) That doesn't mean the surge is over, just that the spread of cases may have slowed.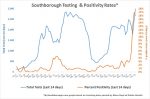 The best sign of that may be that the state's data shows that while testing was increasing, positivity was slightly down.
As for reported cases, I've noted in the past that the Public Health Department believed they were under reported. In a Board of Health meeting this week, the staff noted that in comparing cases self reported to the schools to the state's official data, they estimated the state's data was 50% underreported.
Meanwhile, the Town's data categories were updated last week to change the cases tracked to "Confirmed and Probable" cases. Public Health Nurse Taylor West explained that was based on a change in the state's collection of data.
Previously, the state was telling those that tested positive with antigen tests to follow up and get a PCR test. Given the situation with the surge and testing availability, that's no longer the case. They are now including the antigen results.
That still doesn't include at home tests. Which means the below data just represents the cases officially reported. As of Wednesday afternoon, January 19th there were 182 new cases confirmed in 7 days. The Town's cumulative total over the course of the pandemic is 1639 cases with 140 cases labeled active.
Public Health officials described the highest recent numbers as being children over 10 and 18-25 year olds. Then next highest age groups represented their parents (in their 40s and 50s). Fortunately, the lowest numbers were for those over 70 and second lowest were under 10 (which includes children ages 0-5, ineligible for vaccination).

Last night's report from the state covered results from tests taken through Saturday the 15th. The Average Daily Incidence Rate per 100,000 was 325.7, which was higher than the prior report. But that is averaged based on the 441 cases in two weeks. The 1 week count is significantly down. (To see the latest map comparing us to other towns in our area, click the image right.)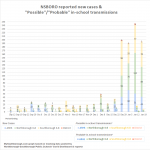 The most recent Northborough-Southborough Public Schools District Dashboard covered through Wednesday, January 19th. That showed 196 cases in one week. Algonquin reported 41 cases. 70 cases were in Southborough K-8 schools.
While still sky high compared to 2020 & 2021, it's down from the peak of 246 cases the week prior.
At this week's Regional School Committee meeting, Algonquin's Principal Sean Bevan said that absences earlier this month were very high, but this week had been more like a normal week in January. The administration will present its plans to the committee for a "reasonable" off ramp to masking next month.
Wellness Director Mary Ellen Duggan told the committee that under the proposed plan, students wouldn't have had to wear masks in school all fall, but the cases over break would have triggered masking up for January.

While the district has shifted pooled screening tests to Mondays, results still aren't coming back in time to include in Dashboards through Wednesday evenings. (See the stats right.)
Daily Counts for yesterday show another 38 cases were reported between Wednesday and Thursday evenings. 11 were at Algonquin and another 11 in Southborough K-8 schools.
Vaccinations
As of the January 20th week's report – about 94% of eligible Southborough residents were fully vaccinated and about 59% of ages 12+ had boosters (as of January 11th).
(I used census data since the state's population data was clearly outdated. Yet even that clearly undercounts our population.)
(For more details on those groups, plus race/ethnicity, click here.)
There is still one more Booster Clinics offered in Northborough on the 25th.
To find other clinics/locations to receive a Covid Vaccine (including boosters) click here.