Last night, Algonquin announced that the school and its regional league will soon lift most attendance restrictions. For over a month, only family/household members of student athletes have been allowed to attend ARHS athletic competitions (even away games). That changes this Friday.
The announcement is in time for the public to cheer on Gonk Basketball at TD Garden this weekend.
I should note, that while the announcement below refers to Sunday's games as "the first event that students may attend after this change", there are actually other competitions scheduled for Saturday, including Wrestling, Gymnastics, and Girls Hockey. (You can see the varsity schedule here.)
Swimming/Diving and Indoor Track also have off-site competitions on Friday and Saturday, but the message specifies that attendance limitations for those sports are "status quo" for now.
Here is the message from Principal Sean Bevan:
Effective Friday, January 28, 2022, Algonquin Regional High School and the Mid-Wach League will lift the restriction on student spectators, once again allowing students, families, and the general public to attend athletic contests. Swimming and indoor track spectator limitations are status quo at this time. Along with Director of Athletics, Mike Mocerino, I am excited to welcome our fans back to games, and I am thankful for their patience and the patience of our winter sports athletes as we put the restrictions in place in response to a surge in positive cases of COVID-19.

As excited as our fans may be to attend games again, it's critical that, as a school community, we employ the mitigation strategies that we know are effective in reducing the transmission of COVID-19. To that end, all mask mandates, as directed by the Department of Elementary and Secondary Education (DESE), the Massachusetts Interscholastic Athletic Association (MIAA), and local health departments will remain in effect, and strict adherence to these mandates will be enforced during athletic contests. Spectators not wearing their masks properly (over the mouth and nose) are subject to a warning and/or ejection from an athletic contest.

The first event that students may attend after this change is a big one: our girls' and boys' basketball teams are playing Nashoba at the TD Garden this Sunday, January 30th. Here are the details:

The girls will play at 10:00 AM
The boys' game begins at 11:30 AM.
Tickets for the games are $20 and can be purchased in the Athletics office starting on Wednesday and during all three lunch periods on Thursday and Friday.

Please note the following Important information regarding TD Garden's spectator policies:

All guests 12 years and older will be required to show proof of vaccination (at a minimum, of 1 dose of vaccine) to be allowed entry to TD Garden.
Proof of negative COVID-19 tests will not be accepted for entry.
All guests 2 years old and over must wear a mask while indoors, unless actively eating or drinking.
For more information, click on https://www.tdgarden.com/playitsafe.

Again, thanks for your patience and understanding as we worked with our teams and our Mid-Wach colleagues these last several weeks to ensure that our events are healthy and safe. We are excited that our fans – the best in the Mid-Wach – are able to return to our games to support their friends and our school.
On December 21st, the school announced restrictions on in-person attendance for home Basketball games that evening. The decision was based on a spike in Covid cases at the school. The following day, an email announced that the restriction would be extended to all ARHS sports competitions away or at home. The decision would be revisited in early January. When students returned to school, and cases were spiking in the schools and community, the administration announced that they and the Mid-Wach League voted to continue imposing the restrictions.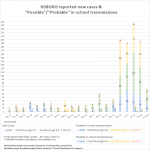 Since then, the surge appears to have peaked. Although the cases at the high school (and across the three districts) are still high compared to most of the school year, they are significantly down from earlier this month. (The data from the graph right includes the Daily Count through last night. (While the last column represents 6 days, rather than a full week, it's still clearly much lower than 6/7 of recent weekly counts.)
Based on other media reports, that seems to be consistent with figures for the state. Last week, I wrote that the numbers for the Town of Southborough seemed to have peaked. That trend continued with the latest figures reported by the Town on Monday. (See graph below.)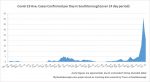 (You can see more data and graphs on the Town's latest counts here.)