With a winter storm forecast to potentially hit town this weekend, the Southborough Fire Department has relaunched its "Adopt a Hydrant" initiative.
The Southborough Fire Department has rolled out a campaign asking the public to help enhance the safety of life and property in our community through the Adopt-A-Hydrant program. The program asks citizens to keep fire hydrants clear of snow and ice during the winter months to ensure firefighters can locate and access them quickly.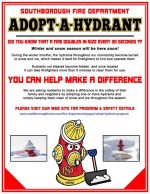 Below are more details from the dedicated page on the Town's website:
Southborough firefighters need your help with increasing the safety of lives and property in our community by joining our Adopt-A-Hydrant program.

During the winter months, fire hydrants throughout our community become buried in snow and ice, which makes it hard for firefighters to find and operate them. Time spent by firefighters searching for and clearing hydrants buried in deep snow, drifts, or plowed snow or covered in ice, is precious time lost that could be spent saving a victim's life or extinguishing a spreading fire. A fire doubles in size every 30-seconds and it can take firefighters over 5-minutes to fully clear hydrants for use, so every second saved is truly vital to a positive outcome.

The Adopt-A-Hydrant program urges residents, business owners, students, and civic groups to adopt one or more fire hydrants close to their home or business and keep it/them clear of snow and ice throughout the winter months following the safety considerations & guidelines for clearing listed below. Participants are also asked to help keep the area around fire hydrants clear of weeds, leaves, and shrubbery during the warmer months and report any damage or issues to the Department of Public Works.

Participants are encouraged to take photos with their cleared hydrants and share them with the Southborough Fire Department Facebook Page or email them to aporter@southboroughma.com. *

For more information, questions, or if you are a student who would like to adopt a hydrant as part of your community service requirements, please email Firefighter Matt Rice at mrice@southboroughma.com.

Thank you for your help, you will truly be making a difference!
The page shares the following details on proper clearance:

GUIDELINES FOR CLEARING SNOW FROM FIRE HYDRANTS
Clear at least 3-feet in all directions around the hydrant.
Hand shoveling or using a snowblower is the best option for clearing snow from a hydrant, do not use a snowplow.
Clear any snow and ice accumulated on the hydrant by hand, do not use tools that could damage the hydrant.
Do not put the snow cleared from the hydrant back into the street, in driveways, on the sidewalk, or any other right of way.
Do not paint, mark, alter or otherwise personalize any fire hydrants.
If you observe any damage or water or ice coming from any opening, please record the closest address to the hydrant and call the Southborough Department of Public Works at 508-485-1210.
It also shares safety cautions for anyone participating:
SAFETY CONSIDERATIONS FOR CLEARING SNOW FROM FIRE HYDRANTS
If you experience shortness of breath or chest pain STOP immediately and call 9-1-1 or seek medical attention.
Always wear highly visible and proper weather-related clothing when clearing snow from hydrants.
Do not stand in the road to shovel the hydrant and always be aware of all hazards including traffic.
Whenever possible have a second person act as a lookout for hazards and traffic.
Be especially cautious of fallen and snow-covered debris, live wires, etc. following storms.
*The weekend isn't close enough yet to know how big/little the impact will be to our region. See the National Weather Services' explanation (below) of the potential for a storm this weekend and forecast probabilities for 3+ days out.) If it looks to be a big one closer to the weekend, I'll share that news.