The data continues to show a decline in new Covid cases in our community. Reports from both the schools and state show a decline in positive tests since the peak earlier this month.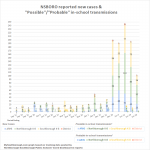 Northborough – Southborough Public Schools' latest Dashboard showed 102 cases reported from January 20 – 26. While that's higher than any week in 2021, it's about half the count from the week prior. 26 cases were from Southborough K-8 schools and 23 from Algonquin.
The lower figures were despite the week's count including two weeks of pooled screening results. (Earlier this month, lab results from the start of the week came in too late for Dashboards through Wednesday afternoons. That wasn't an issue this week.)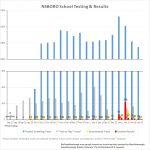 0.6% of pooled screening tests from this week came back positive, vs 1.3% the week prior, and 10.7% the week of January 6th-12th.
The state report for tests through Saturday shows that the percentage of positive test results for Southborough residents have also continued to decline at the same time as the number of tests conducted went down. (If you need information on getting tested, click here.)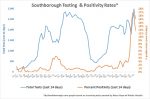 As of this afternoon, the Southborough Senior Center appears to be still set to reopen on Monday. And, as I wrote about earlier this week, NSBORO schools lifted attendance restrictions for most of their sports competitions effective today. (Masks will still be required both for visiting the Senior Center and attending any ARHS games.)
On the vaccination front, the number of residents getting boosters continued to rise across eligible age groups. The % of fully vaccinated residents ages 5-11 continued to grow. Plus there has been a recent increase residents in their 20s getting their first dose. Below are my updated chart and graphs.