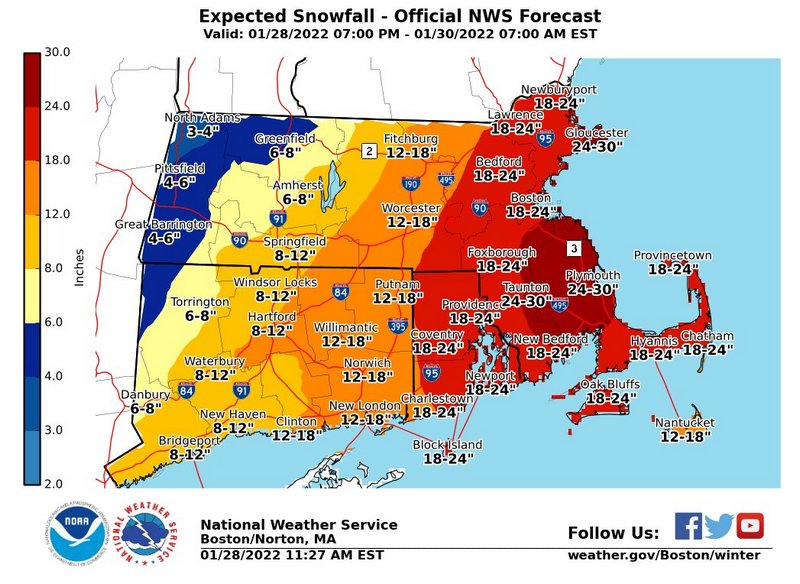 The forecast for this weekend's storm keeps getting worse. The latest maps have us in the 18-24″ range for snowfall.
Although not officially in the Blizzard watch zone, Southborough is on the edge of it. (Officially, we're in the Winter Storm Warning region.) This morning, a Winter Storm Severity Index graphic posted by the National Weather Service put us in the midst of an area "Major Impact" potential.
The only good news is that Southborough Emergency Management describes that snow as expected to be "light and fluffy". (Earlier in the week forecasts referred to heavy snow.) That should make shoveling easier. But, it brings its own hazards due to the high winds. That includes visibility issues on Saturday and Sunday, plus some higher snow banks that could block vents.
Lt. Neal Aspesi writes:
Our final forecasted and actual snow total numbers will be DECEIVING. The strong winds and fluffy snow will result in significant drifting which could result in multiple feet in areas that it piles up. One area might have 1 inch while another could have 3 feet.
The NWS forecast describes snow mainly starting after 11:00 pm tonight with wind gusts of up to 28 mph overnight. The main storm will be throughout tomorrow, where it could be coming down heavy at times. It's expected to be windy with gusts peaking at about 48 mph in the early afternoon. (Though Aspesi shared a forecast of potentially up to 50+ mph gusts and noted even 60 mph winds wouldn't be "unreasonable" given the data.) Snow is expected to continue into the evening, stopping by around 10:00 pm.
Given the overall forecast for the northeast, this could be one of those storms where it takes National Grid a few days to restore power to everyone and temps will be chilly. So, take seriously Southborough Emergency Management's warnings about preparing ahead and safety measures during/after the storm. Here is there latest warning:
Hazards:

Visibility (Very High):

Walking outside and driving will be near, if not, totally impossible. If you must venture out, make sure to dress appropriately, have a fully charged cellphone and tell someone where you are going and the estimated time you will arrive (or be back). This includes walking outside for any distance, duration, or reason. Do not underestimate the dangers of whiteout conditions.
This will continue after the storm ends until the winds subside, so Sunday could be a blue-sky day and still have sporadic white-out [conditions], without prior warning.

Blocked Egresses (High):

Blowing and drifting snow can result in blocked doors, impacting your ability to exit your house, especially in an emergency. Be diligent in frequently clearing snow from at least two exits during and after the storm. Keep in mind that with drifting, snow will continuously build back up after being cleared, even after the snow stops falling.

Health and Fire: (High):

As with egress doors, be sure to frequently clear all exhaust vents around the exterior foundation of your home, especially direct-vent furnaces and fireplaces. Blocked vents can result in high carbon monoxide levels in your home, failure of the vented appliance, and possibly fire from overheating.

Power outages (Moderate):

With no leaves on the trees, the frozen ground, and the powdery consistency of the snow, wide-spread power outages are not a significant threat. However, there is the potential for isolated outages, so everyone should be prepared for a power outage.
Ensure to safely and properly operate generators, including keeping them outside and away from vents to avoid fire and carbon monoxide hazards, fueling with the unit off and cooled down, and do not overload the unit.
Keep in mind that these are "temporary" "emergency" generators, only power the essentials (heat, a few lights, and a few outlets). The less power drawn will result in less fuel being consumed and thus extend the run time between refueling.
To avoid pipes freezing, open and continuously flow water (about the size of a pencil) from one faucet on each floor.
When using space heaters, keep all flammable/combustible items (including papers, blankets, etc.) at least 3 feet away and monitor for overheating of the unit. It is best to use heaters sporadically, as needed to warm up, and DO NOT operate heaters while you are not home and while sleeping.
Be cautious outside for downed live powerlines hidden under the snow

Clearing snow:

The biggest concern will be the impaired viability of traffic & plows, who may not see you while clearing snow near the street (or in a parking lot). Be sure to wear bright and visible colors and maintain situational awareness of your surroundings.
It is highly recommended to delay clearing of snow near streets until daylight and suspend work during times of limited visibility.
Look for more updates on NWS' Facebook page here and forecast details on their website here.
With this amount of snow headed our way, it's worth reminding readers of the Southborough Fire Department's call for residents to Adopt A Hydrant. Read about that here.