St. Mark's School's winter sports ended over the weekend. The Southborough based private high school had some big news worth sharing from the season.
Class of 24's Anaya Strong won a national championship title for Wrestling.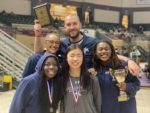 Strong was one of four Lions who wrestled in the National Prep School Wrestling Championships in Maryland. Three were on the Women's team which came in 3rd place. (Image right from website shows wrestlers in the front row L-R: Ife Lawore, Jiayi Yu, and Strong)
They were joined by Nate Consigli who had previously won the Independent School League Championship for his weight class. You can read more here.

More recently, the Boys Ice Hockey team competed in the championships for the small schools under the New England Prep School Athletic Council.
They entered the tourney as the top ranked contender for their bracket. On Saturday, they lost the Semi-Finals, 0-1 to #4 Pomfret (which ultimately won the title).
They still earned bragging rights this winter, having cinched their league championship title last month.